Resource Date: 2018
Author: UNFPA and Promundo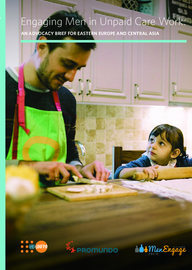 Unpaid care work is often considered a secondary issue, but it's one of the key drivers of women's inequality. In Eastern Europe it is also an element in continuing low fertility as the prospect of having to shoulder most of the unpaid care forces women to choose between having children and having a career.
Over the past 10 years, new data on men and gender relations has emerged from the region. Such data provides evidence on ways in which equality in caregiving is good not only for women's empowerment and children's well-being, but how men's caregiving is also good for men themselves. Research shows that involved fathers feel more emotionally connected to their partners and to their children, and that they live happier, longer lives. This advocacy brief explores how men's (and women's) beliefs, attitudes and practices, as well as weak societal support for shared caregiving, impact gender equality at the household level. This advocacy brief highlights the need to transform men's gender-inequitable practices in relation to family life – and dismantle the underlying factors that perpetuate inequality.
This advocacy brief contains key recommendations for policymakers and practitioners on how to transform the state of fathers in Eastern Europe and Central Asia. These recommendations will serve as advocacy "action points" for countries that belong to the Eastern European and Central Asia (EECA) MenEngage Platform. The EECA MenEngage Platform is a network initiated by the EECA Regional Office of UNFPA, the United Nations reproductive health and rights agency, in collaboration with Promundo-US, MenEngage Alliance and UNFPA Country Offices in the EECA region. This regional platform seeks to provide a collective voice on the need to challenge harmful gender norms, including through the engagement of men and boys alongside women and girls, to build and improve the field of practice around gender-transformative programming and advocating before policymakers at local, national and regional levels.
This advocacy brief uses data from the United Nations, particularly UNFPA and UNICEF; the International Men and Gender Equality Studies (IMAGES) conducted in Armenia, Azerbaijan, Bosnia and Herzegovina, Georgia, Kyrgyzstan and Moldova; the Organization for Economic Cooperation and Development (OECD); the International Labour Organization; country-driven time-use research studies such as those from Ukraine; and other existing reports and publications on fatherhood and caregiving from global and regional partners in the EECA region. It also draws on analysis and recommendations from the MenCare Campaign's State of the World's Fathers 2015 report. Additionally, the evidence presented here builds upon the good practices and lessons learned resulting from the partnership between UNFPA's EECA Regional Office and Promundo on engaging men and boys. As part of this partnership, Promundo and UNFPA have conducted regional mappings of male-engagement initiatives, carried out trainings on gender-transformative approaches and collaborated on research, policy advocacy and programming.