Resource Date: 2015
Author: UNFPA Eastern Europe & Central Asia Regional Office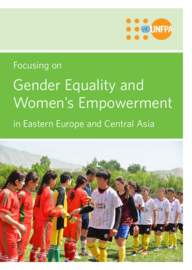 Achieving true gender equality remains a major challenge in Eastern Europe and Central Asia, even though legal protections in the region are generally strong and women are relatively well-represented in secondary education and the workforce. Violence against women and girls remains persistent, as do inadequate and discriminatory responses to sexual violence, which puts women at higher risk of numerous sexual and reproductive health problems. Harmful traditional practices such as gender-biased sex selection, 'honour' killings, bride kidnapping, and child and forced marriage also persist in various parts of the region, while women and female-headed households tend to experience higher levels of poverty. Tackling these issues requires root causes of gender inequality to be identified and addressed.
This publication provides a brief overview of the key issues of concern regarding gender equality and women's empowerment in Eastern Europe and Central Asia, UNFPA's work in the region, and priorities for the future.