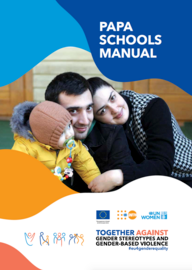 Research shows that while most men want to be good fathers, deeply embedded gender norms and a lack of recognition by governments and health systems of the key roles men play in the lives of their partners and children make it challenging to do so. Papa Schools create safe spaces for men to explore and challenge restrictive gender norms and practice skills and actions that will help them become more engaged fathers and supportive partners.
The Papa Schools Manual was created for use by facilitators working with Papa Schools to engage men in active fatherhood and caregiving, gender equality, and violence prevention. It includes a series of sessions to enable men to reflect and build collective support for making positive, healthy changes in their lives.
The Papa Schools Manual has been developed in the framework of the "EU 4 Gender Equality: Together against gender stereotypes and gender-based violence" programme, funded by the European Union, implemented jointly by UN Women and UNFPA in Armenia, Azerbaijan, Belarus, Georgia, Moldova, and Ukraine.