Published Date : 17 February 2020
One UNFPA Staffer's Parental Leave Experience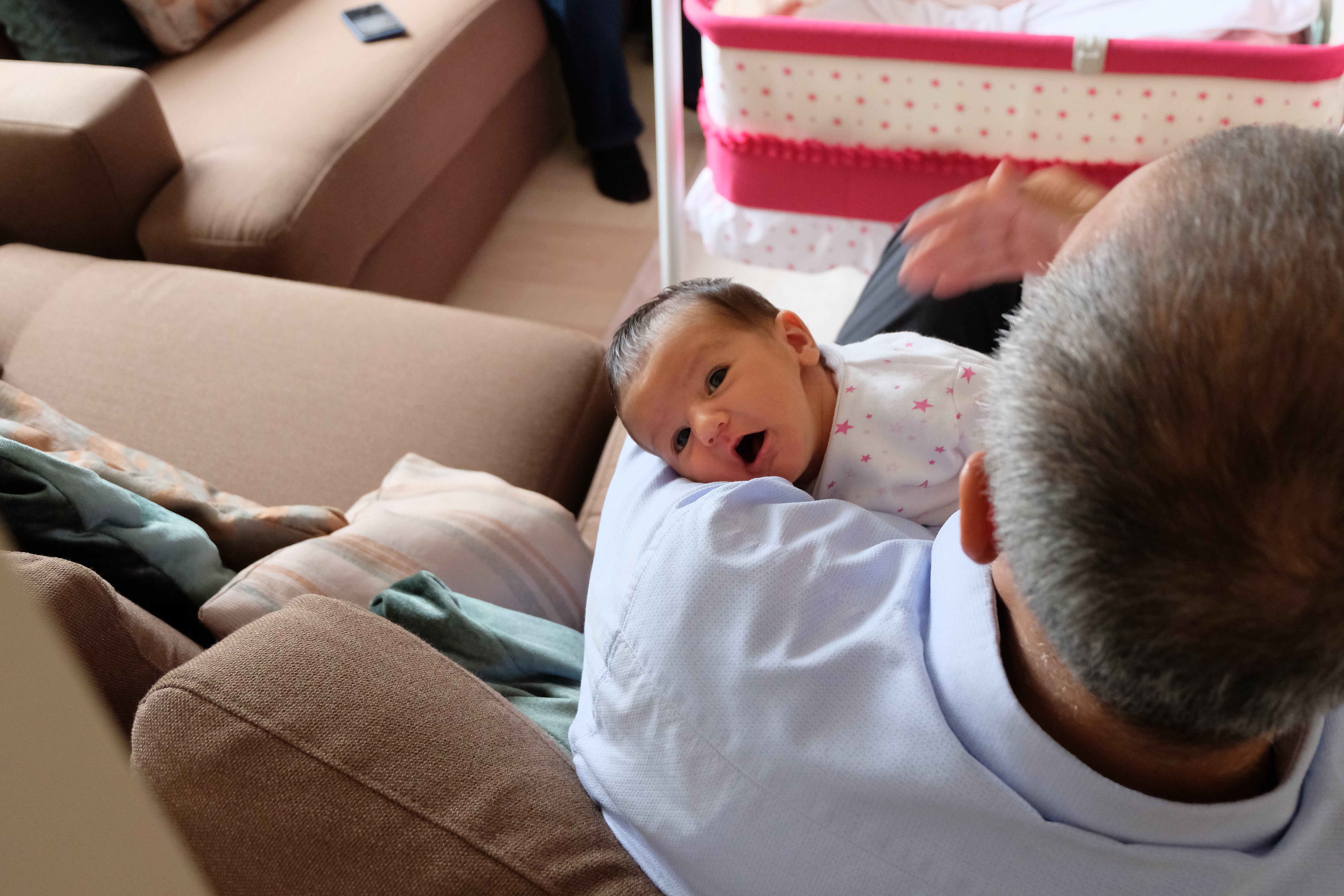 ISTANBUL, Turkey — "A baby is hard work," Fikret Yıldırım laughs as he coos at his newborn daughter, Hazel, who is just starting to fuss softly upon waking up from a nap.
Fikret and his wife, Çiğdem, also have a six-year-old boy, Umut. But when his son was born, Fikret's job at a limousine company didn't allow him much time to experience the challenges, or joys, of hands-on parenting. "I only got three days off," he recalls.
This time around, Fikret was able to be at home with his family for a significant amount of time both before and after Hazel's birth, thanks to the paternity leave offered by his current job providing logistic and driving support for UNFPA's Regional Office in Istanbul.
"This leave has been a really great gift for me," Fikret says. "I can help Çiğdem with whatever she needs – doing the shopping, cleaning, laundry, preparing Hazel's bottles."
Because of the support he got from his employers at UNFPA, and because his workplace is close to his home, Fikret was also able to accompany Çiğdem to her monthly doctor appointments throughout her pregnancy. "I wanted to support my wife during her pregnancy because it is such an important period," he says. "I wanted to know what she was going through, what she was feeling."
Male role models like this were scarce when Fikret, age 47, and Çiğdem were growing up. "When we were kids, fathers weren't very interested in children," Çiğdem says.
"My father worked in a factory, he was working all the time, and had no time for his kids," Fikret recalls. "That's how that older generation was."
Traditional gender norms in Turkey, and many countries around the world, mean men are often primarily valued for their role as breadwinners, while women are expected to take on sole responsibility for caregiving at home. These gendered expectations create invisible barriers to men's full participation in family life and parenthood, and to women's full equality in society and the workplace. Challenging these norms and adopting family-friendly policies like paternity leave that encourage men to take an equal role in caregiving has been shown to be good not only for women's empowerment and children's well-being, but also for men themselves.
"I feel really lucky," Fikret says about the time he spends with his family. "I have my routine on weekends with Umut. I take him to the park, to the stationery shop for some toys – he's crazy about origami – or to the video-game arcade at the mall."
Paternity leave is becoming more common and increasingly recognized as a right, with some countries adopting more generous programmes that incentivize dads to actually take parental leave. Studies show a range of positive impacts resulting from this kind of support for fathers, including stronger bonds between dads and their children, higher levels of family cohesion, and an increased likelihood of parents being able to realize their fertility intentions.
Another important part of achieving equality in caregiving is sharing the "mental load" –the usually invisible burden of remembering, managing and typically also executing household tasks, including childcare. This is generally performed by women, and also known as "emotional labour".
Çiğdem says that Fikret does chores around the house without her having to ask him. "He's involved in everything – the baby, the house, Umut – because he has more time now," she says.
Çiğdem is still the one who gets up three or four times a night to feed Hazel – though Fikret proudly shows off his techniques for burping the baby – and will be the primary caregiver during the week when he goes back to work. Fikret says he plans to continue doing the housecleaning when he is home on weekends.
"Some families in Turkey have six or seven people living in one house, so the other relatives help out, but it's just the two of us," Fikret says. "If I don't do these things, who will?"