IMISHLI, Azerbaijan — In the small, remote villages around Imishli district, gender-based violence is largely thought of as a private matter. The stigma around the issue keeps many people from reporting incidents of violence, or even discussing them. As a result, an entire community may be aware of violence happening in a particular household, yet no one ever intervenes. But that is starting to change.
Young men in Imishli are challenging the perception of violence against women as a "family issue," instead bringing it out into the open and taking a stand against it. As part of a UNFPA-supported initiative, they're coming together in small groups to discuss the causes and the negative impact of gender-based violence — and to try and find ways to confront the problem in their communities.
"We are here to pave a new road free of violence, and free of ignorance towards gender-based violence," says Vusal, 23, who participated in an information session on gender-based violence that he describes as "utterly challenging."
"Over the course of these information sessions about different forms of gender-based violence, I slowly become aware of the violence that exists within the families in our immediate vicinity," adds Ziya, 28, another participant in the session.
The information sessions are part of an initiative launched by UNFPA in 2016 and funded by USAID to end gender-based violence in Azerbaijan, where almost a quarter of all women surveyed by UNFPA in 2008 reported being exposed to intimate partner and non-partner violence. The survey also showed that less than 1 per cent of women respondents have sought help from public services. Both services to provide assistance to survivors of violence and the legal framework for protecting them are currently insufficient in Azerbaijan.
UNFPA's initiative works to raise awareness about gender-based violence, engage the public in creating policies to combat it, and support the Azerbaijani government in developing an effective national referral and response mechanism. The sessions for male groups and other community members focus on education about the main forms of gender-based violence, including psychological and economic abuse; its causes and consequences; and available protection mechanisms. They also aim to raise overall awareness about gender and human-rights issues.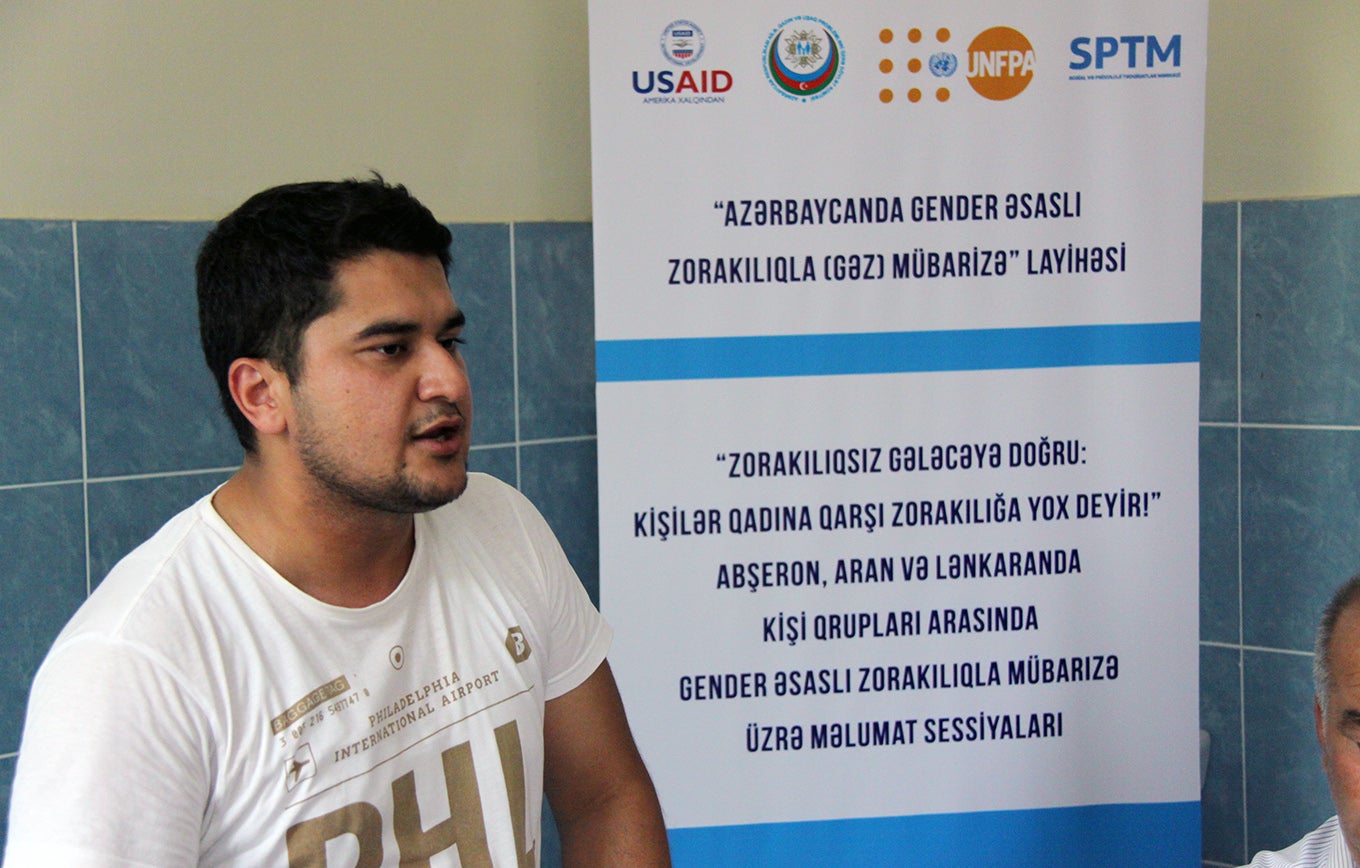 "One of the major impediments to adequately addressing the issue of domestic violence in Azerbaijan is the inclination of the husband, the family and the community to hold the woman responsible for almost all cases of violence that occur," says Javid Shahmaliyev, the head of the UNFPA-supported Centre for Social and Psychological Studies. The centre facilitates awareness-raising actions in several parts of Azerbaijan, including the communities of Aran, Absheron and Lenkoran, educating people about the need to end violence and to intervene when they see it happening.
"Even when women are not blamed for the violence they endure, they are seen as the main force that can and should do something to alleviate the problem," says Shahmaliyev. "Men are never seen as the problem, as everyone believes that men cannot be changed." The male-involvement approach utilized by UNFPA provides men with the support they need to combat gender-based violence, he says.
UNFPA works throughout the Eastern Europe and Central Asia region to meaningfully involve men in promoting gender equality, with a specific emphasis on eliminating gender-based violence. Together with its partners, UNFPA also promotes practices, guidelines and protocols to more systematically engage health systems in gender-based violence prevention and response.
"Several years ago it was unacceptable to even talk about violence in our community so as not to complicate things," says information session participant Ziya. "But now I know what to do when I see a man abusing his wife or restricting her freedom."
Kamaleddin, 59, says people often make excuses to themselves for not intervening in incidents of abuse, hoping that maybe they are mistaken about what is happening. "When I heard about the information sessions that were to be held in our community, I decided to share the canteen that I run as a venue for these sessions and contribute to the process that way," he says. "It makes me feel like maybe I can do something important for my community, because the thought that I can do nothing to eliminate gender-based violence would lead to despair."