TBILISI, Georgia/KYIV, Ukraine — "I was only 17 years old when my daughter Anastasia was born. I knew I was too young to be a father, so I was very nervous, but also twice as motivated to do everything properly," says Sandro Sulakvelidze, a musician from Georgia. "I woke up at midnight when she started crying, gave her food, changed her diapers, was with her whenever she needed me. Now she's 7 years old and we are best friends."
Men in Georgia are not typically so involved in childcare. A UNFPA survey in 2013 found that fewer than 18 per cent of Georgian fathers are actively involved on a daily basis in taking care of their children under 6 years of age, a figure that decreases to less than 5 per cent when the children are between ages 13 and 18. But men's attitudes about fatherhood are changing, thanks to dads like Sulakvelidze, a proud representative of the MenCare Georgia Campaign, led by UNFPA Georgia Country Office and the NGO "We Care" within the framework of the United Nations Joint Programme for Gender Equality.
Last month, MenCare Georgia celebrated Father's Day with a special musical performance for fathers and children at Mziuri Park in central Tbilisi; messages from celebrity dads on fatherhood and equal caregiving; and a cooking class for dads and their kids hosted at the Culinarium Cooking School in Tbilisi. The private sector also joined the celebration, the second annual event hosted by MenCare Georgia, arranging a variety of activities for fathers and their children. Local restaurants and businesses offered special discounts, while mobile operator Geocell became the first large company in Georgia to give the fathers they employ a short working day on 19 June to celebrate Father's Day with their families.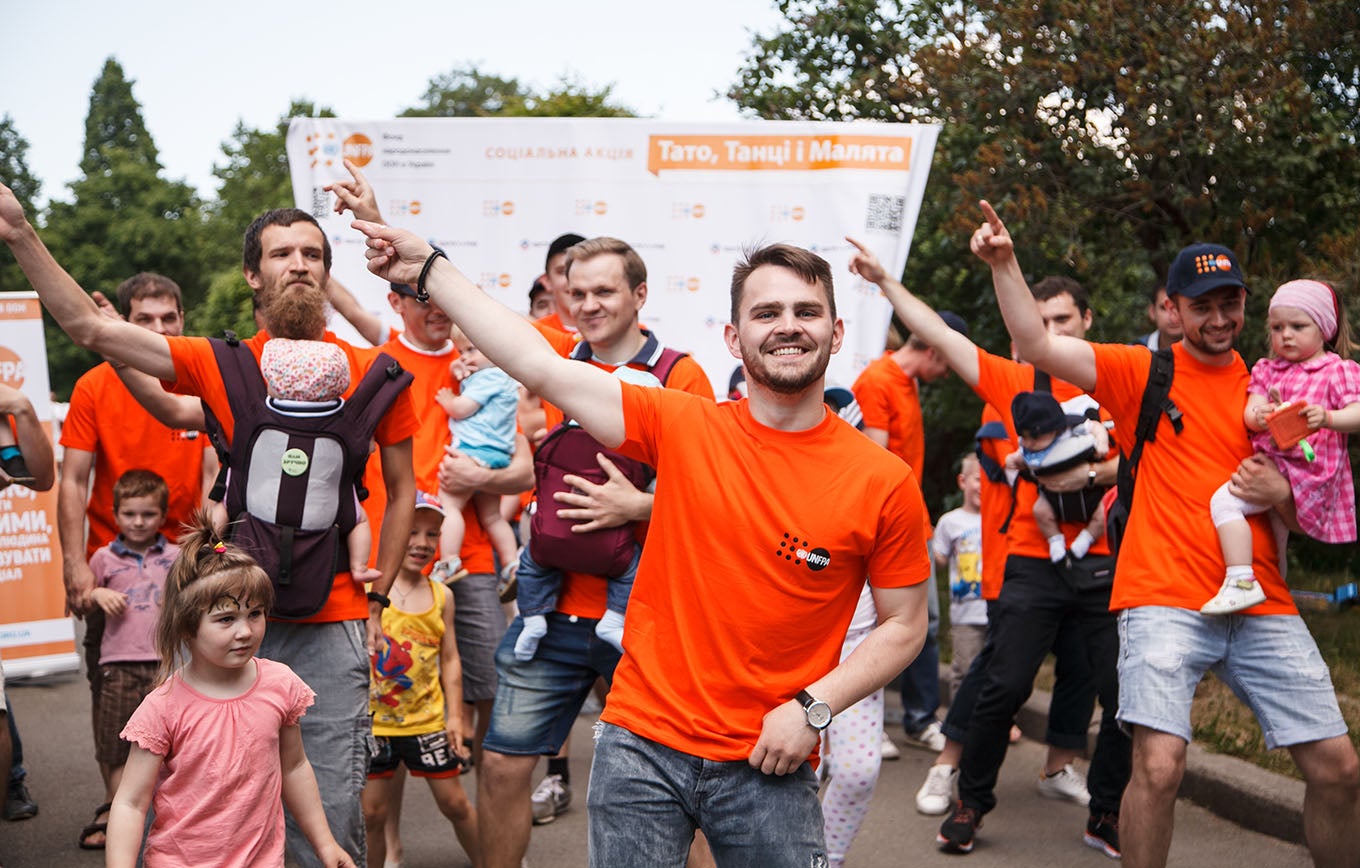 Similar celebrations were held in Ukraine, where UNFPA organized a dancing "flashmob" for young fathers with small children as part of its MenEngage campaign. The event was featured on prime-time TV news. UNFPA also partnered with Ukrainian football champions FC "Shakhtar" Donetsk, one of the strongest teams in Europe, to coproduce messages showing Shakhtar players taking active roles in caring for their children and fulfilling family responsibilities. These popular posts were widely shared on social media under the #MissionDad hashtag.
"Football players are important role models because men and boys in Ukraine admire them; they represent masculinity and the concept of 'real men'," says Caspar Peek, UNFPA Ukraine Representative. This makes them powerful advocates for gender equality, when the athletes show that "real men" cook, read, paint and play with their children.
Compared to their European counterparts, Ukrainian fathers spend less time with their children and are less likely to take paternity leave. An average Ukrainian dad spends approximately four minutes per day with his children, but research indicates that many later regret this lack of involvement. International studies show that fathers' active involvement in childcare improves relations between family members, boosts children's confidence and contributes to children's future success.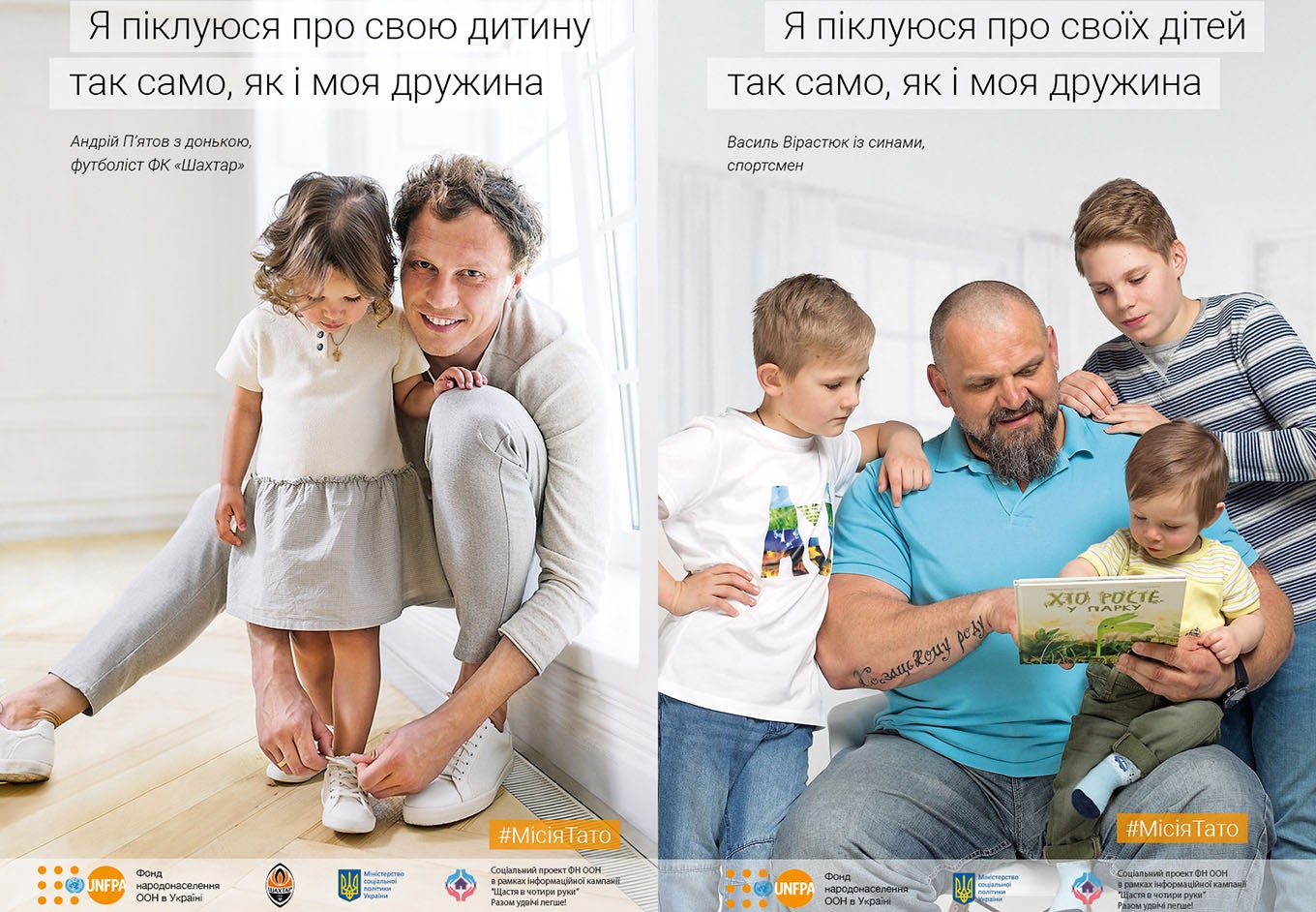 Ongoing activities to promote fathers taking an active role in childcare in both Ukraine and Georgia include the "Daddy, Read Me A Book" campaign, in which celebrity fathers read books to children and encourage other dads to do likewise.
"When I'm at home, I try to spend more time with my son. We play hide-and-seek, or I bathe him, or we read together. We love to read books out loud, especially poems about animals," says Vlad Yama, a dancer and one of the judges on the "Ukraine's Got Talent" TV show. "Fatherhood is a huge responsibility and a crazy joy. It really changes your perception on life; it's part of the process of becoming a real man."