Publisher: © 2019 United Nations Children's Fund (UNICEF)
Resource Date: 2019
Author: Yekaterina Chzhen, Anna Gromada, Gwyther Rees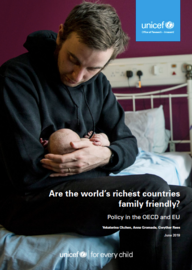 Children get a better start in life and parents are better able to balance work and home commitments in countries that have family-friendly policies. These include paid parental leave, support for breastfeeding and affordable, high-quality childcare and preschool education. This report looks at family-friendly policies in 41 high- and middle-income countries using four country-level indicators: the duration of paid leave available to mothers; the duration of paid leave reserved specifically for fathers; the share of children below the age of three in childcare centres; and the share of children between the age of three and compulsory school age in childcare or preschool centres. Sweden, Norway and Iceland are the three most family-friendly countries for which we have complete data. Cyprus, Greece and Switzerland occupy the bottom three places. Ten of the 41 countries do not have sufficient data on childcare enrolment to be ranked in our league table. There is not enough up-to-date information available for us to compare across countries the quality of childcare centres or breastfeeding rates and policies. There is scope for the world's richest countries to improve their family policies and collect better data.