Resource Date: 2017
Author: UNFPA and IPPF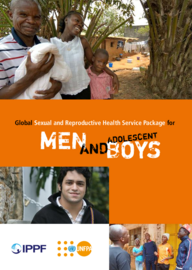 The Global Sexual and Reproductive Health Service Package for Men and Adolescent Boys has been developed to support providers of sexual and reproductive health services. It aims to increase the range and quality of sexual and reproductive services provided that meet the specific and diverse needs of men and adolescents boys. It covers men and adolescent boys in all their diversity, and takes a positive approach to sexual and reproductive health, seeing this not just as the absence of disease, but the positive expression of one's gender, sex and sexuality.
Men have substantial sexual and reproductive health needs, including the need for contraception, prevention and treatment of HIV and other sexually transmitted infections (STIs), sexual dysfunction, infertility and male cancers. Yet these needs are often unfulfilled due a combination of factors, including a lack of service availability, poor health-seeking behaviour among men, health facilities often not considered "male-friendly," and a lack of agreed standards for delivering clinical and preventative services to men and adolescent boys.